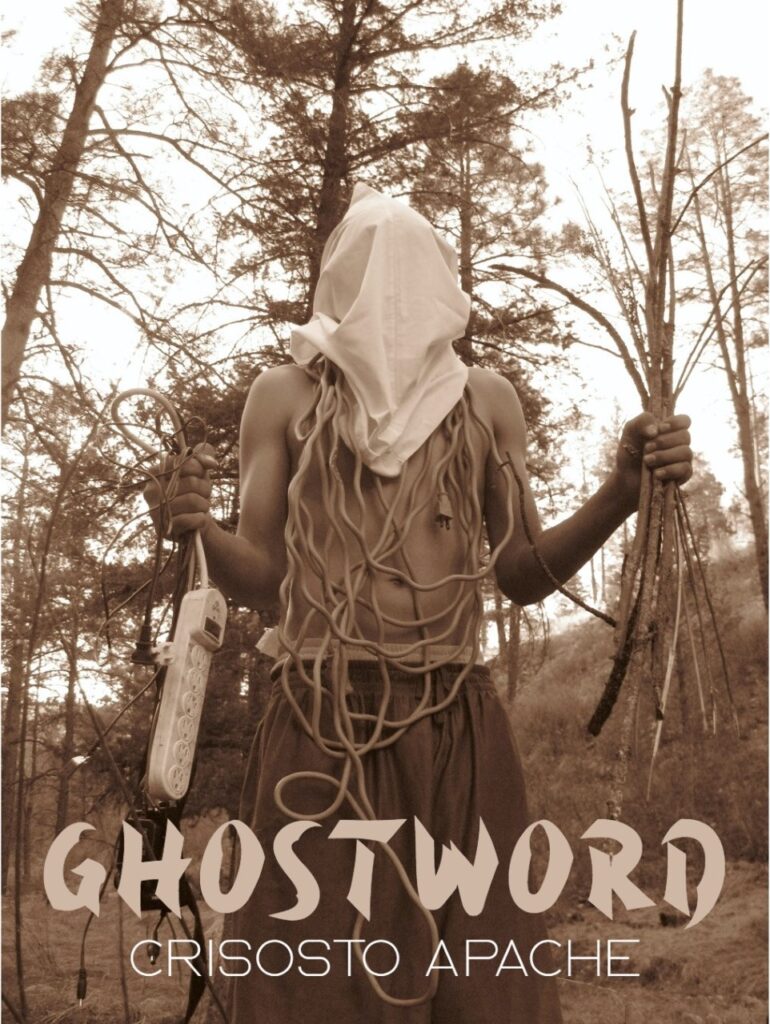 GHOSTWORD, book orders.
Winner of the Publishing Triangle, 2023 Betty Berzon Emerging Writer's Award.
Finalist of the Colorado Authors League (CAL) poetry book award.
Praises for Ghostword:
Crisosto Apache draws powerfully on his Mescalero Apache language and culture and, guided along the way by touchstone sparks from the Japanese writer Akutagawa Ryunosuke, creates a singular journey out of "emotional burial and systemic abuse." Where Akutagawa encounters erasure, "Gazing up at them everything was forgotten," in Crisosto Apache's hands, everything is remembered and confronted, and, though filled with ash, these poems are testament to struggle, survival, and, x, the mysterious light of existence. -- Arthur Sze author of The Glass Constellation
A powerful personal journey of reflection and response. In lyric vignettes inspired by Akutagawa Ryonosuke's A Fool's Life, Crisosto Apache creates an original portrait of a mythic and myth-making protagonist confronting the memories, language, and figures that haunt and inhabit his Ghostword – a stunning collection. -- Chip Livingston author of Crow-Blue, Crow-Black, and Museum of False Starts
Ghostword is poetry for people who aren't afraid of their own shadows. History is inescapable, but how we allow history to contextualize our present is totally up to us. Crisosto will continue to exist and resist until he has passed on to what follows this life. -- Jason Arment author of Musalaheen: A War Memoir  
This poetry collection is a solid leap in the maturity of voice and creative purpose from Crisosto's debut collection GENESIS (Lost Alphabet) which is saying volumes because Crisosto's first book is masterful, Ghostword is an excellent follow. -- Matt Hohner, author of Thresholds and Other Poems
Crisosto Apache's new book Ghostword weaves the immediate senses, memory, lineage, history, literary study, and the experience of being and becoming. At times these feel like separate moments, even as we realize the inherent connection of everything touched and experienced. Ghostword is a mirror, as much as the work a study of Ryunosuke Akutagawa's A Fool's Life. The study provides a vastness within the practice of a constraint and ends in a decided clarity on identity and its juxtaposition against the world. –  Meca'Ayo author of an identity polyptych
GENESIS Book Orders.
Lost Alphabet - GENESIS
Praises
"[G]estation to birth of new generation, this book gives monumental range to the genesis of identity and charts the pathway to soul of self. A long-awaited phenomenal debut." —Allison Adelle Hedge Coke 
"Entirely new, experimental, and worth the effort of reading.  Passionate in places, contemplative in others, he travels from that ancient past toward the distant universe."—Linda Hogan
"These poems record not only the nine months of history occurring while the poet formed in gestation... it attempts to make sense of the whirling world of chromosomes, of snow across body-laden battlefields, the whirl of strobe lights in a sex club, and the spiral which meets in the center where isdzán and haastiń (woman and man) become indistinguishable. Apache's collection challenges our footing on things we thought we knew."—James Thomas Stevens
"With the use of Apache Language (Ndé Bizaa)  & Navajo Language (Diné Bizaad) Apache creates a cascading resonance where the reader is asked to separate themselves from what they know of Native American history, and consider the Indigenous experience in America through Apache's experience on the reservation and in urban settings. Through those locations we are exposed to meditations on sexualities, Native American identity, and historical trauma…GENESIS delivers an experience that I both kinetic and visceral."  — Santee Frazier